QLine
Effortles work scheduling for SMT lines
Reduce work scheduling time from hours to minutes
Does your SMT planner spend hours for manually preparation of work scheduling?
Is your work schedule dynamic enough? Can it be updated at any time?
Can you all SMT operators easily understand the schedule?
QLine
QLine provides a simple and easy to use solution for work scheduling of SMT lines. QLine is designed specifically for reducing time, for preparation and updating processes.
Features
Simple mechanism for importing data from ERP systems

Distribution process designed awith Drag&Drop technology (Work stock to SMT lines, SMT line to work stock, SMT line to SMT line), includes auto-testing for line possibility (like shape limitations, line limitations etc) and setup time of each work

Auto-distribution based on constraints such as Date, Line Possibility, Shape Possibility, Quantity of components (based on BOM) and feeders, Line Rate, PCB Standard time etc

Simple mechanism for moving and resizing work on SMT line

Ability for changing work information directly in distribution process, includes recalculation of information and auto-testing for constraints

Ability to add remarks between works

Displaying work information (such as ID, Cat.#, Start/End Date and Time etc) based on timeline and highlighted of setup information as a part of work

Online and Exception information, as part of displayed work information, is designed as LEDs, such as Shortages, Existence of SMT Setup, Shape/Line Possibility etc

Unlimited lines can be added and displayed

Work times (start and length) and date can be set generally for all SMT lines or for each SMT line separately, includes standard work days, holidays, special work days etc

Setting useful information for each SMT line such as Rate, Limitation, Quantity of Feeders, Setup time etc.

Querying historical information and updating in real time to produce each PCB (a standard time)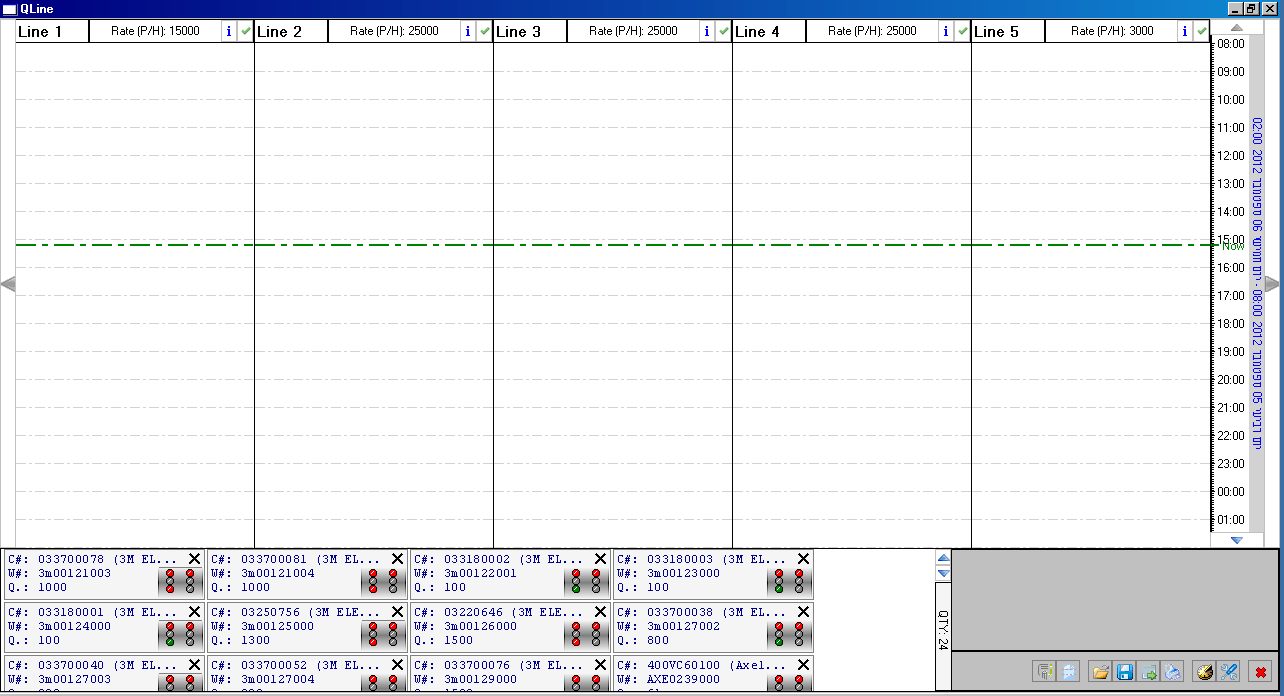 Figure 2. Works on SMT lines
Summary

Simply ERP data importing

Auto-distribution

View by dates and times

Info-lights for Errors, Warnings and Info

Auto-Collection of historical information
Business benefits

Efficient use of SMT machine time

Lower production costs

Higher productivity

Shorter production cycles